This will be one of the easiest sales we will make here... the car is just incredible and no matter what I put here, it won't do the vehicle justice so we'll just get straight to the point as to why you're saving thousands of dollars.
- Z51 PKG
- 3LT PKG
- HEADS UP DISPLAY
- BOSE SOUND
- NAVI
- STUNNING ADRENALINE RED INTERIOR
- HEATED AND COOLED SEATS
- CARBON FLASH REAR SPOILER
- CARBON FLASH SIDE SKIRTS AND FRONT LIP
- CAR APPEARS TO BE LOWERED A HALF INCH AS WELL
+ MORE!
TEST DRIVE VIDEO (COPY AND PASTE):
https://youtube.com/embed/0W8Vpy1q1G4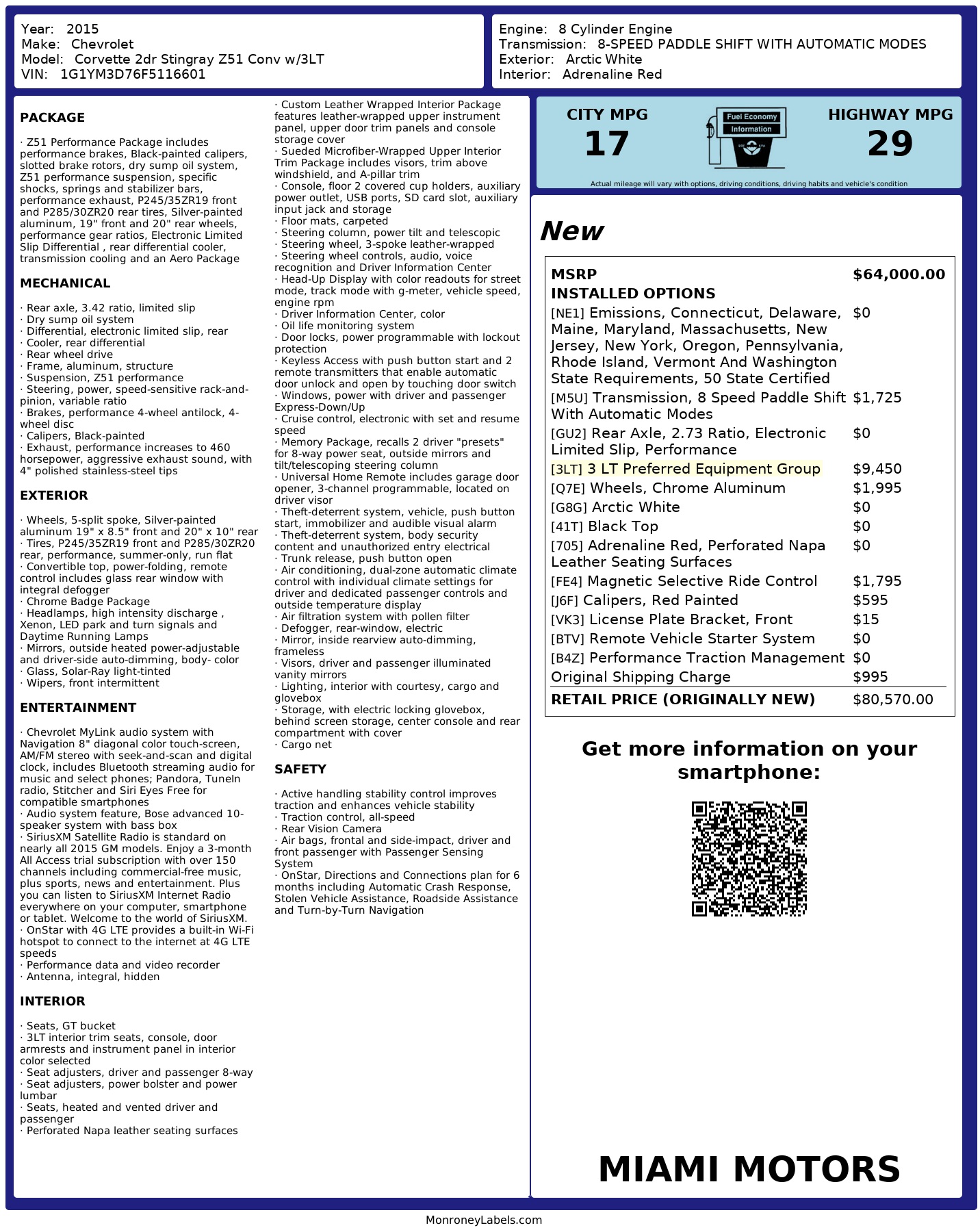 This CORVETTE, like all of my vehicles, was purchased from an Insurance Auction as a THEFT RECOVERY; That means the vehicle was involved in a theft-claim, the owner was paid, the vehicle was recovered and then the Insurance Company auctioned off the vehicle! NOW YOU GET TO SAVE THOUSANDS OFF RETAIL! Scroll to the end of the listing to see the 'before' photos which show the *minor* damage we fixed to the front bumper.
MECHANICALLY: Perfection. Just a dream and smooth as can be whatever you throw at it. 23K Miles... expect nothing less.
COSMETICALLY: The car is literally perfect save for some of the dash panel coming 'unglued' if you will (I have provided photos).
It seems to be a common issue on the 3LT Z51 package (Google:
2015 corvette dash leather). We have a quote of $1495 to repair it and it can be done in 7 days... this is literally the 'worst' blemish on the vehicle
TIRES: Easily 50%+ all the way around
UNDERCARRIAGE: Pristine! See pics!
Due to the prior theft, this VETTE currently comes with a SALVAGE title. We will prepare the paperwork, set an appointment and take the vehicle through a REBUILT inspection here in Florida and obtain a REBUILT title on your behalf for $395. This process takes 7 days from receipt of deposit and all you have to do is request it after you 'BUY-IT-NOW'! If you have any questions about this just ask! =)
CHECK OUT MY FEEDBACK and GOOGLE MY COMPANY 'MIAMI MOTORS' TO SEE HOW I DO BUSINESS!
Send me a message for a door to door shipping quote or book that flight and come to Miami to pick her up! (If you are flying in to pick up we must add on the cost to take it through Rebuilt; If you are shipping, this is optional)